Update (12 June 2015): Please note the application period for this role has now closed.
Fubra, a travel and consumer guide publisher based in Hampshire, is looking for two enthusiastic, creative and self-motivated individuals to join our team as digital marketing apprentices.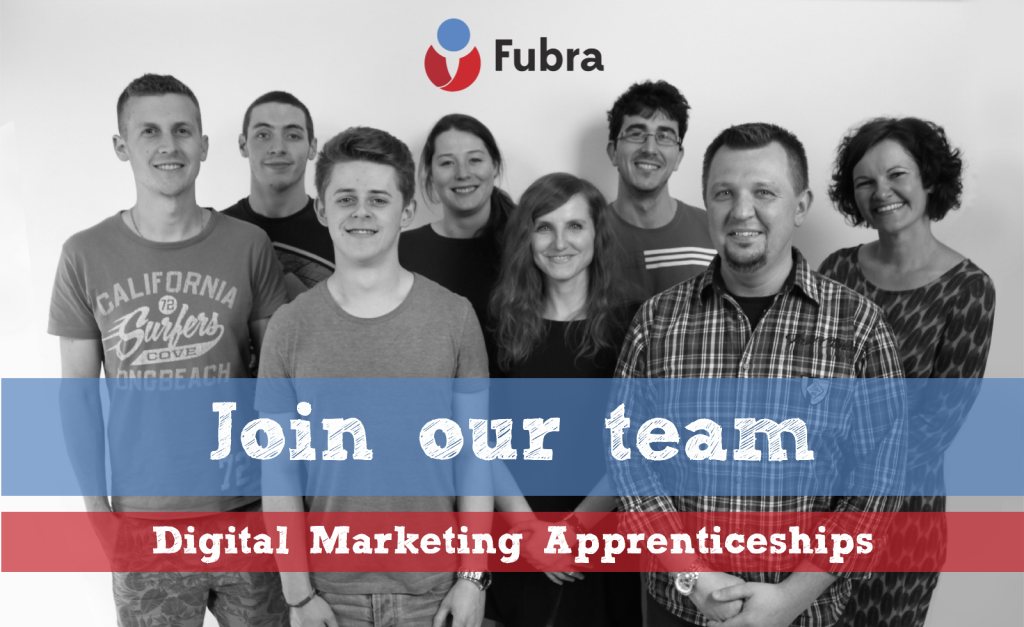 Working closely with content, product, SEO and development teams apprentices will learn how to promote websites using the latest marketing techniques.
The Company
Fubra Limited is an Internet publisher based in Aldershot, Hampshire, managing a network of over 100 websites covering areas such as price comparison, travel, property, jobs and motoring. We provide advertising opportunities to many well-known brands across our portfolio of sites, and specialise in building comparison tools and apps helping consumers save on travel, fuel and car hire. Our flagship site is
Airport Parking Shop
which compares airport parking prices from over 400 car parks at 32 UK airports and ferry ports. The apprentices would also be involved in promoting
Car Hire Centre
,
World Airport Codes
and a network of independent airport guides.
The Role
The main purpose of the role will be to promote the business through online partnerships (links), social media and other digital marketing channels. Some examples of the types of activities you will perform are as follows:
Link Building / Content Marketing
Market research of competitors
Link building / email outreach campaigns
Drafting email templates
Setting up online link partnerships
Making phone calls and responding to enquiries, and logging them in our CRM systems
Inbound/Outbound
Run marketing campaigns
Preparation of marketing material
Set up and implement email marketing campaigns
Draft copy for digital marketing communications
Content creation (infographics, blog posts, guest blogging)
Conduct market research
To assist colleagues in delivering digital marketing plans and activity for projects and campaigns
SEO activities to increase website traffic
Social
Build followers and increase engagement across all social media platforms
Develop new ideas to promote the business using social media/websites
Advertising and promotion through social media platforms
Analytics
Analyse and report data with Google Analytics
Follow up and analysis of campaign results
Monitor and report on activities and provide relevant management information
Your qualifications and skills
5 GCSEs grade A-C, with at least a C in English and Maths
High level of attention to detail
Excellent verbal and written skills
Able to work as part of a team
Excellent time management and organisation skills
Punctual and reliable
Highly motivated and have the drive to succeed
Keen to learn and develop new skills/knowledge
Positive and enthusiastic attitude
Strong copywriting skills
We are looking for a candidate that wants a career in Digital Marketing
A commitment to learn and work hard. Self-motivated with a focus on results.
As part of the apprenticeship you will study for a City & Guilds Level 3 Diploma in Digital Marketing. View the
Qualification Factsheet here
and the
Qualification Handbook here
(both open as .pdf files). The apprenticeship program lasts 12 months and includes five study weeks and workshops that will teach the fundamental principles of social media marketing and search engine optimisation. This is the second year Fubra is taking on Digital Marketing apprentices. If you'd like to see what our two previous apprentices got up to in 12 months here at Fubra, we strongly recommend you
read their testimonials
.
Benefits:
£200 per week salary (£10,400 per year) and 28 days holiday per year (including Bank Holidays);
Fully paid apprenticeship training and additional on-site SEO training workshops;
Opportunity for a full-time position at the end of the 12 month apprenticeship;
Plus regular company socials, free fruit and drinks, casual dress code, flexible working hours and use of fast computer hardware – Apple iMacs / Mac Minis with big screens.
Date advertised:
20 May 2015
Closing date for applications:
12 June 2015
Location:
Aldershot, Hampshire
Apply Now