Update (25 June 2015): Please note the application period for this role has now closed.
With a portfolio of websites reaching over a million combined monthly visitors, Fubra has an exciting opportunity for an enthusiastic web content assistant who would join our vibrant content marketing team on a full-time basis. Located in Aldershot, Hampshire, this is an ideal role for someone with some copywriting and content management experience who is passionate about travel.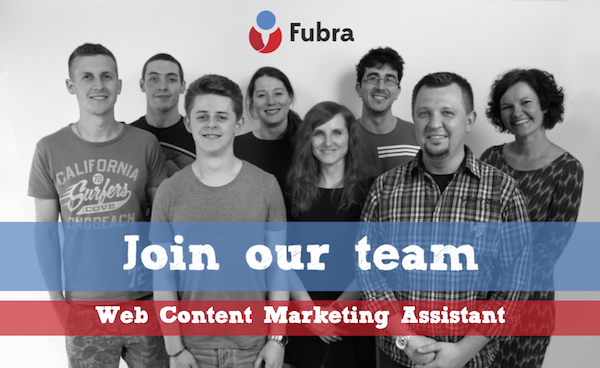 The role
Responsibilities:
Content management
– Updating and refreshing existing content across our network of websites, ensuring information is correct and up to date. Maintaining this content and looking for new opportunities. Much of this will involve editing and uploading content to live sites via a CMS or WordPress.
Content creation
– Writing news stories, blog posts, articles, newsletters, and other material for websites and social media channels.
Content monetisation
– Ensuring our content is generating income for the business through advertising and other partnerships.
Marketing
– Using SEO techniques and social media to manage and create content with the aim to raise awareness of our brands and bring new customers to our sites.
Your Qualifications and Skills:
– Strong written communication skills, organised, self-motivated, and a good team player, with an excellent eye for detail; – Demonstrable record of content creation and publishing (please provide some examples, e.g. blogs, reviews, newsletters etc); – Passionate about writing, ideally with a travel and consumer focus; – Some basic knowledge of HTML would be ideal but not essential; – Experience with using a CMS would be highly advantageous; – Proven ability to manage multiple tasks, priorities and projects simultaneously and with a positive can-do attitude; – Excellent grades in English, and ideally a 2:1 degree; – Some knowledge of Google products (Drive, Analytics etc.) and SEO / content marketing techniques would be useful, but not essential; – Expertise across social media channels is highly advantageous; – A keen interest in travel.
Date advertised:
11th June, 2015
Job type:
Full-time, permanent
Location:
Our offices in Aldershot, Hampshire
Salary:
£16,000 – £18,000 depending on experience
Start date:
ASAP
Apply Now