Just over a year ago here at Fubra we were busy preparing to interview over ten young individuals – all from within local area – for the two apprenticeship placements we'd advertised for. We were also a little apprehensive, as in most cases the CVs submitted were of someone very young, without previous work experience, without any know-how or exposure to an office work environment. However, we needn't have worried, as what our candidates lacked in experience they made up for in enthusiasm and an eagerness to learn.
Paul Maunders, Fubra Ltd. co-founder and director, remembers: "We were looking to expand our marketing team, and so I began researching apprenticeships. I discovered the Social Media and Digital Marketing courses and felt that it would be a great fit for our business."
In May 2014 Fubra Ltd. recruited two Digital Marketing apprentices, Will and Chris, who joined our marketing team and were trained both in-house and by the training provider Baltic Training in a range of link building techniques, SEO, content creation and inbound marketing, social media and affiliate partnership development. They have been key in testing some of our relaunched sites and mobile apps (such as Airport Parking Shop and Car Hire Centre); building online relationships and have taken part in our creative brainstorming sessions.
"I'm really happy with the contributions that they have made to our business since they joined," said Paul Maunders. "So much so, we're now looking for 2 more!"
---
We're hiring! If you know someone who is considering becoming an apprentice and keen to earn as they learn, gain a qualification and get some work experience, send them our way. We will be announcing the two new apprenticeship in the next few weeks.
---
To show you what Will and Chris got up to in one year we've created this infographic. Actually, the apprentices helped to create it too!

As their apprenticeship at Fubra comes to an end, there are exciting things in the pipeline. Will has been offered a permanent Digital Marketing Executive position at Fubra which he accepted, and Chris is moving on to an exciting new digital marketing role at a digital media agency in Fleet.
Here they happily share their feedback and insights into their year spent as apprentices:
How much did you know about Digital Marketing before applying for this apprenticeship and did you expect it to be what it turned out to be?
Will: Having studied Media and I.T. at college, I knew a little about digital marketing and the basics of how it worked, but it's safe to say I didn't anticipate how much I would learn after joining Fubra. The apprenticeship was a little a different to what I expected, I learnt more than just marketing and I was able to also learn a lot about SEO too.
Chris: I had no prior experience in Digital Marketing, or any I.T. role. I didn't really know what to expect coming in to Fubra but everything I have needed to help my learning has been given to me and I have been encouraged to pursue every learning opportunity.
How would you describe this one year spent as an apprentice?
Chris: My year at Fubra has been a brilliant learning experience, while also giving me the independence and benefits of a full time job. With this being my first job I couldn't have asked for a better place to kickstart my working career.
Will: A great experience, I don't think there is a better way to learn skills than in-house and this year has been amazing; I've learnt so much! It has been challenging and at times I have felt under pressure, but when you have a great team surrounding you, you have nothing to worry about.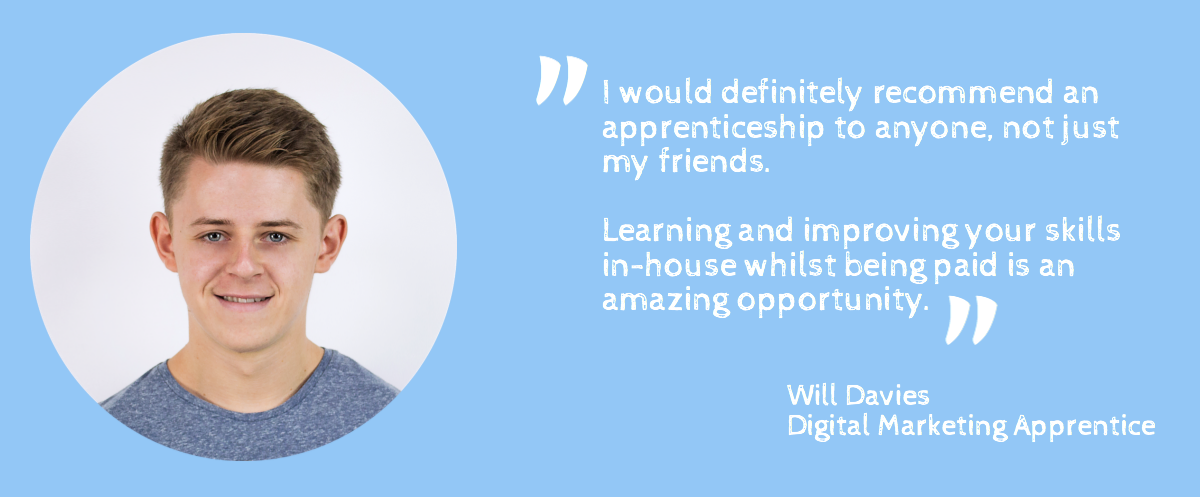 What was the most challenging aspect of your apprenticeship?
Will: I think the most challenging part of the apprenticeship was probably sticking to daily targets/routines and not getting too carried away with new tools and other projects; it's very difficult not to get carried away at Fubra!
Chris: The first few months getting to grips with Digital Marketing and being in an office environment for the first time was daunting to begin with but I soon adapted.
Apart from the qualification and practical experience, what else do you feel you learnt?
Chris: Fubra has definitely help me improve my communication skills, not only face to face but via emails and phone calls, while giving me the chance to experience what a full time job is like.
Will: I feel that my social skills have improved vastly. Fubra have helped me to become a confident individual who can approach/speak to anyone regardless of the situation. I've also learnt a great deal about the office environment and that itself is invaluable!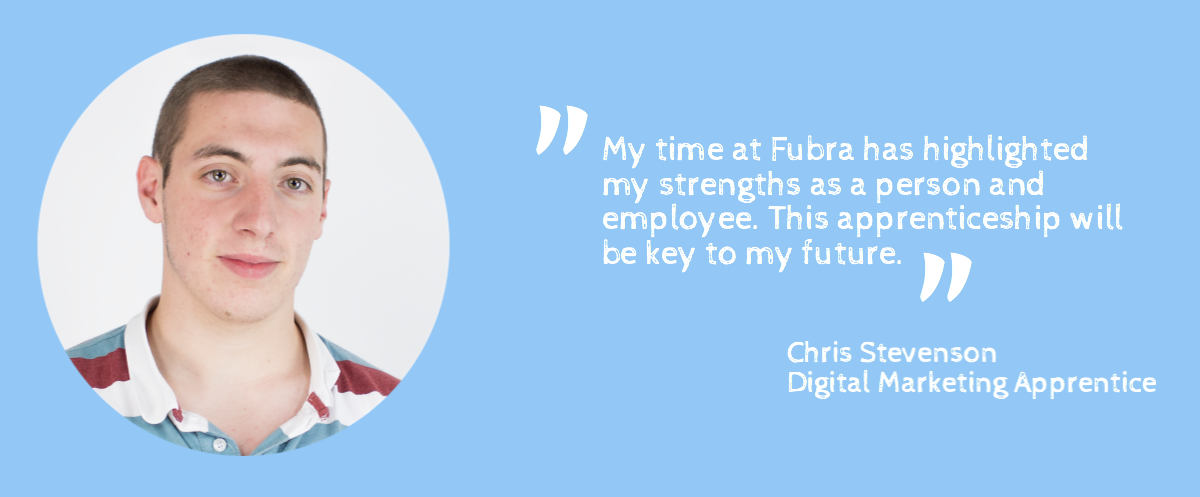 Would you suggest apprenticeship as a way of learning and gaining experience to your friends, and why?
Chris: I would definitely recommend apprenticeships to people looking to earn money and learn at the same time. If I knew anyone who was debating university or apprenticeships I would urge them to look into an apprenticeship.
Will: I would definitely recommend an apprenticeship to anyone, not just my friends. I think for certain careers paths, becoming a doctor for example, university is important but for anything associated with media and marketing apprenticeships are a great option. Learning and improving your skills in-house whilst being paid is an amazing opportunity, one that 3 out of 5 of my closest friends opted for.
What do you think the future holds for you?
Will: I'm very excited about the future, hopefully I will be able to progress even further within the company whilst learning so much more and I hope to have many more happy years at Fubra!
Chris: I believe my future is in Digital Marketing or Sales as my time at Fubra has highlighted my strengths as a person and employee. This apprenticeship will be key to my future.
If you would like to learn more about the two new apprenticeship openings, drop us an email. Otherwise, watch this space and apply!