Over three months ago one of our websites – World Airport Codes – has undergone a full revamp, focusing on design, functionality and user experience. The change hasn't stopped there as the team has been working hard on improving two airport pages – New York's John F. Kennedy International and Chicago O'Hare.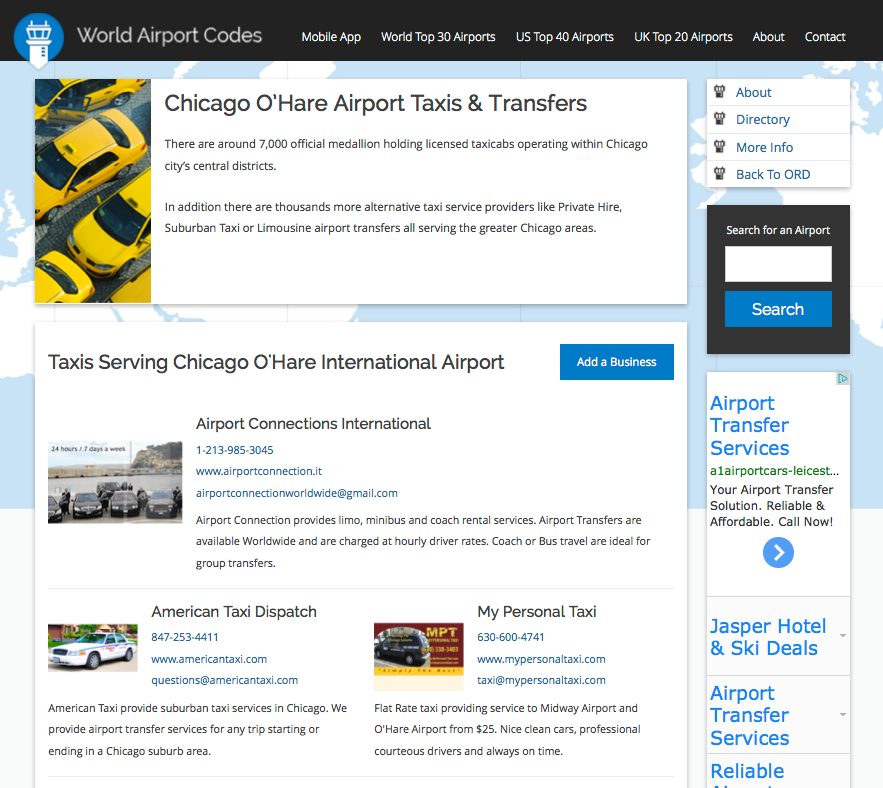 Both airports are among the US top 10 busiest airports, and we felt there was too much useful information to cram into just one airport page for each. For example, getting to and from the airport is a commonly shared headache for most travellers, not to mention international guests who don't live in the country and can't imagine all the subtleties that apply to the local airport transfer services. That's how a dedicated Chicago O'Hare Taxis page was planned, aiming to explain how various taxi options work, what you'd expect to get in terms of service, and how much it would cost. Similarly, an important international business hub such as New York was bound to have a rather complicated taxi market, and Andrew spent quite a bit of time researching and finalising the John F. Kennedy Taxi page.
For those who prefer their own means of transport for getting to and from airport we thought it's essential to know car parking options at both airports. On JFK Airport Parking page we looked at various services available both on-site and off-site, as well as details of pick-up / drop-off parking which can be a stressful process if you've never driven to an airport. Some practical tips (such as making sure your tank is full of petrol in case you get stuck in traffic, who would have thought!) may seem obvious, but always worth knowing. You can also view all airport parking options on one map, allowing you to make an informed decision when deciding on the parking provider.
Chicago O'Hare Airport Parking page goes into a little bit more detail on how to book airport parking, how to get to the parking site and what's the process of collecting your vehicle upon your return. We were also interested to know what the Airport and City laws for airport parking are, as well as charges and local parking providers.