If you have a large family, do you wish that your children all outgrow their clothes at the same rate? No! That's how we sometimes feel with a large portfolio of websites and a relatively small team of developers, copywriters and marketers.
It seems we've just relaunched World Airport Codes a short while ago, and then the Airport Parking Shop, but somehow missed the moment when one of the children in the travel website family ended up with trousers that look like shorts!
Car Hire Centre, our car hire comparison engine, has been helping travellers find and compare car rental deals across the globe since 2003 when it was first launched. However, the last time it was treated to a nice new smart outfit was 2006! Yes, the same year Nelly Furtado was hogging the top spot in music charts with her "Maneater" – admittedly, a year we'd rather move on from!
Fast forward to 2015, and we proudly present a newly designed mobile-friendly Car Hire Centre: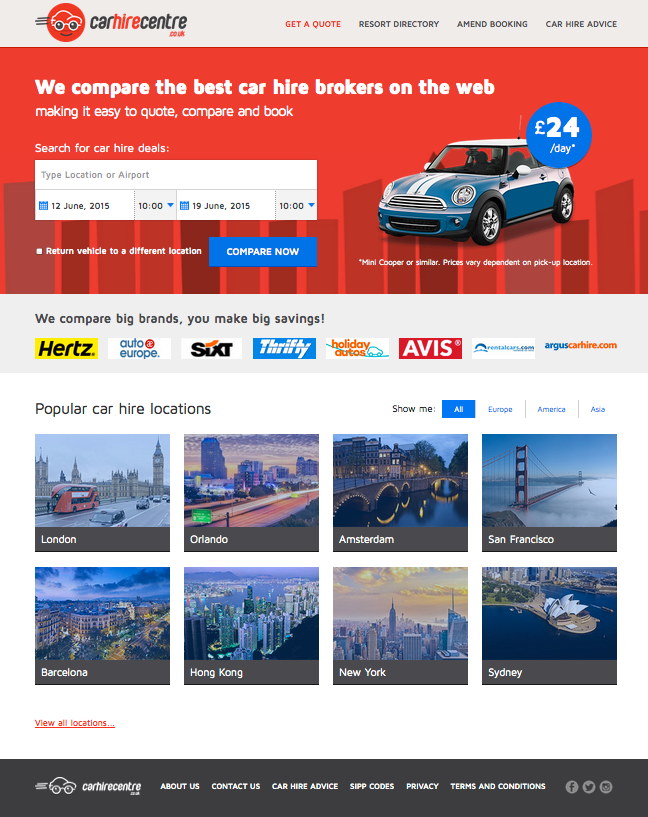 Quite a few cobwebs had to be removed from the website, including updating the content (work is still in progress with this so bear with us!), speeding up the search, improving search results and ensuring the site was responsive and mobile-friendly. But above all, we gave our brand a smile!