So the 1st of July 2015 has finally arrived and we are ready to greet the new regulations concerning the way calls from both mobiles and landlines to numbers such as 0800, 0808, 084, 087 and 09 are charged for.
What is all the fuss about? Total cost
Ofcom, the communications industry regulator, are introducing the new rules under which the cost of calls will be made clearer than before. From today onwards, the charges will comprise two parts:
Service charge – the amount you will pay to the company providing the service you wish to contact
Network access charge – the amount your phone company will charge you for the call
So
1 + 2  = Your Total
for the call to either a premium or service number. The cost is pence per minute or PPM.
How much will it cost?
It will cost you £0.05 to contact our range of 0844 service numbers plus your phone network access charge.
Let's take a look at what some mobile networks are going to charge if you are on a monthly plan:
| | | | |
| --- | --- | --- | --- |
| Vodafone | EE | Three | O2 |
| 23p/45p* | 44p | 25p | 25/45p** |
* as of 10 August 2015                                                                ** as of 15 August 2015
The BT landline users should be able to find some landline access charges information here.
As the prices may change, we strongly advise you contact your network provider to find out what your current network access charges are.
Freephone numbers finally free!
As of today calls to phone numbers starting with 0800 or 0808 will literally be free. This is finally  made available to mobile users, exactly the same way it has been to landline users.
All the changes are being communicated through a campaign called UK Calling so feel free to visit their website for more information.
How we did it
As we hold a range of 0844 numbers (and a couple of 09 ones) across the network of our websites, we needed to address that accordingly.
Fubra is a company who really cares so we have decided to make that effort, make things easier for our users, and get it all done in a timely manner.
The whole process could be broken down into a few stages:
We initially confirmed the rates with our TCP (a company providing our service phone numbers) – March 2015
We agreed on the wording to be used – ('Calls to this number will cost 5p per minute plus your network access charge') – March 2015
We reviewed all our websites and made a list of those to be updated – March – June 2015
We applied the changes across our network of websites – June 2015
1st July 2015 is here and we're ready – yay!
Below are some screenshots taken from just a couple of our websites, Airport-Parking-Shop.co.uk and Car-Hire-Centre.co.uk, while we were trying to decide where the wording should go so it is 'in close proximity to the number itself'.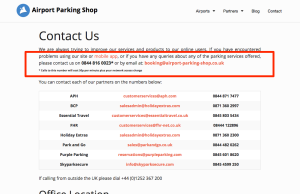 Summary
A task, which initially seemed pretty easy, turned out to be quite a challenge at times, especially when trying to find information on network access charges the phone companies would apply, or to decide where the wording should go, hence the idea to put it all together in this post. We hope you have enjoyed reading it.
It has been a team effort so let me put my hands together for those involved in the process – thank you all again!
How about you?
And how did your business deal with the changes? We'd love for you to share your experiences with us either in the comments below or via Twitter @Fubra