If you have a large family, do you wish that your children all outgrow their clothes at the same rate? No! That's how we sometimes feel with a large portfolio of websites and a relatively small team of developers, copywriters and marketers.
It seems we've just relaunched World Airport Codes a short while ago, and then the Airport Parking Shop, but somehow missed the moment when one of the children in the travel website family ended up with trousers that look like shorts!
Car Hire Centre, our car hire comparison engine, has been helping travellers find and compare car rental deals across the globe since 2003 when it was first launched. However, the last time it was treated to a nice new smart outfit was 2006! Yes, the same year Nelly Furtado was hogging the top spot in music charts with her "Maneater" – admittedly, a year we'd rather move on from!
Fast forward to 2015, and we proudly present a newly designed mobile-friendly Car Hire Centre: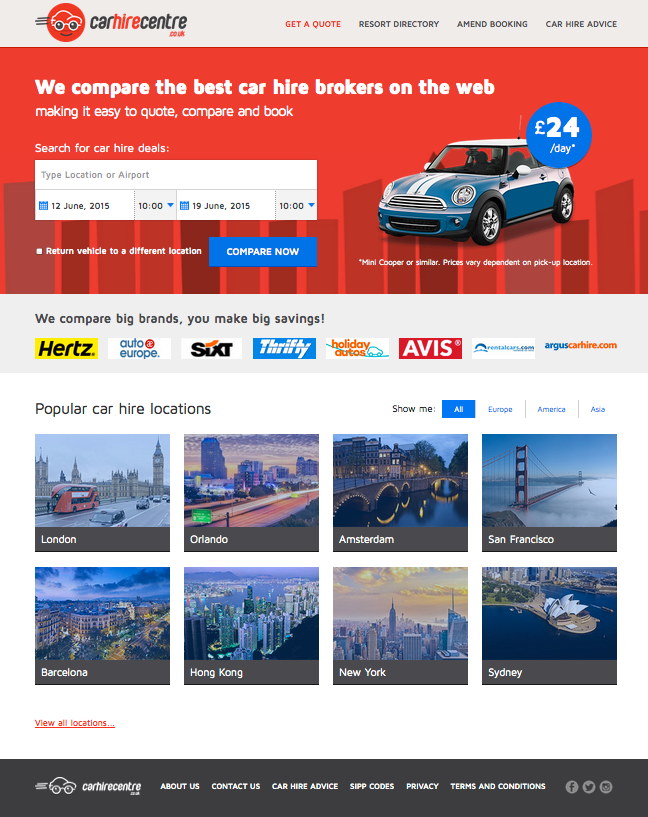 Quite a few cobwebs had to be removed from the website, including updating the content (work is still in progress with this so bear with us!), speeding up the search, improving search results and ensuring the site was responsive and mobile-friendly. But above all, we gave our brand a smile!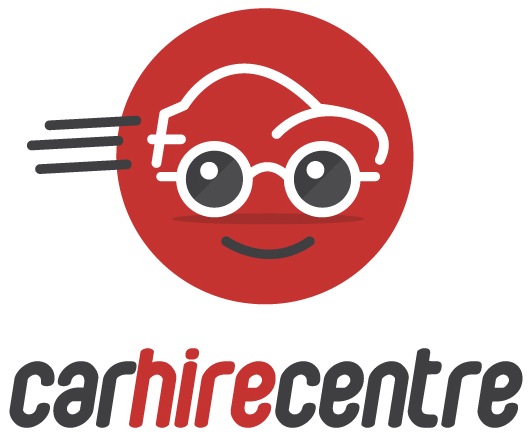 A team of developers, designers and content writers worked on this update; we've asked them about their own experiences when hiring a car when on holiday.
Can a hired car can make or break your holiday?
Will: "Yes, 100%. We have mostly had good experiences with hired cars and it has made for an enjoyable holiday with more choice of activities. However on our most recent trip to Spain our car broke down on a motorway… Which, as you can imagine, wasn't fun at all."
Alice: "It depends on location. If not having one is going to impact your holiday then I would agree. However in European cities the public transport is generally good enough to not need one."
Paul: "It can certainly add to the fun of the holiday if you are doing a lot of driving and you enjoy the car you drive! In more practical terms, it's great to have a car that has plenty of space and easily fits all your luggage – especially if you are travelling with kids!"
Top car hire pet hates
1. When things are broken.
Will: "At least one feature is always broken, last year the aircon didn't work which meant we had to have the windows down all of the time."
2. The feeling of being ripped off.
Paul: "One of the most annoying things when hiring a car is having to make sure you aren't ripped off by the hidden charges, trying to get out of the fuel surcharges, or having car hire staff tell you there is a £2000 excess and try to upsell their extra insurance!"
3. This was here before. No it wasn't. Yes, it was.
Jurga: "Feeling like Sherlock when collecting the vehicle, trying not to miss the tiniest ding/scratch/scrape! And then trying to prove that the damage was preexisting when returning the car."
4. The car is not ready.
Paul: "If the car is prebooked, the most annoying thing is being told it's not ready. Or worse – not even available."
5. I wanted automatic, this is manual.
Paul: "Trying to fob you off with something "in the same price band" that does not have what you'd wanted the booked vehicle to have."
6. Dirt.
Jurga: "The car may be clean, but then you get presented with a dirty child car seat."
Tried and Tested: Top tips for hiring a car abroad
Take photos before you drive off, if a car has a dent in it or a scratch and you have no photographic evidence that it was there before then the company will probably point their fingers at you.
Read reviews of the car hire company before booking a car, some can be awful.
Do some research into the landscape of the area you are staying in, if the place has really steep hills then you will want a car with a bigger engine, otherwise it might not make it!
Make sure you know the prices of everything before committing, and do some research on local driving customs – e.g. driving in the US can vary from state to state, in some states you can turn right on red and others you can't.
Get yourself a car excess insurance policy before you go. Don't buy their expensive policies at the local supplier. You can get a policy for something like £10-£15 from a separate supplier before you go on holiday that will cover your insurance excess.
Make sure everyone you want to drive it has the documents needed for hiring.
Who said car hire wasn't fun?!
Alice: "I thought I had researched my local driving tips pretty well when hiring a car in California. Turns out I didn't research my local parking etiquette – you aren't allowed to park "against the flow". You can only park in on-road spaces if your car is parked in the same direction as the traffic. Not knowing this, I woke up early the next morning to find my car gone! It had been merrily towed away for being parked against the flow, and I had to get a friend to give me a lift to the compound to release it. Oops!"
For more useful car hire tips and anecdotes head over to our new Car Hire Centre, powered by Travimix, the price comparison engine behind other Fubra's sites, such as Airport Parking Shop.